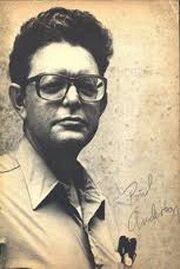 Poul William Anderson
 (November 25, 1926 – July 31, 2001) was an American science fiction author who began his career during one of the Golden Ages of the genre and continued to write and remain popular into the 21st century. Anderson also authored several works of fantasy, historical novels, and a prodigious number of short stories. He received numerous awards for his writing, including seven Hugo Awards and three Nebula Awards.
Selected Works:
Edit
External Sites
Edit
Ad blocker interference detected!
Wikia is a free-to-use site that makes money from advertising. We have a modified experience for viewers using ad blockers

Wikia is not accessible if you've made further modifications. Remove the custom ad blocker rule(s) and the page will load as expected.