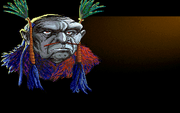 Olochagach
the Holder of the Key to the Sacred Tech and Guardian of the Holy of Holies, was the priest of the
Canyon People
. He is the only one allowed to look upon the
Sky Silver
held in the
Tech
.
When Quinn, Seeker-of-Vengeance and Miranda Rees arrived to the canyon village they claimed to be sky-gods, however Quinn did not display enough knowledge to be allowed to look upon the Sky Silver. Instead he broke into Olochagach's sacrum and stole one of the keys.
Ad blocker interference detected!
Wikia is a free-to-use site that makes money from advertising. We have a modified experience for viewers using ad blockers

Wikia is not accessible if you've made further modifications. Remove the custom ad blocker rule(s) and the page will load as expected.